Table of Contents
How to do police Verification of tenant?
Introduction
If you have a residential property like Flats and Houses that you want to give for rent purposes. There are a few things you need to do before renting out your property, especially in Kolkata.
One of them is the tenant police verification. To ensure that the people you have selected to rent out your property have no criminal histories, you must conduct tenant verification.
The local police department in your city is responsible for tenant verification.
You can do tenant police verification online as well as offline. You must complete the tenant verification form with basic information about both you and the tenant in order to apply for the same.
Continue reading to learn the prerequisites and procedures for easily submitting an application for tenant verification.
Let\'s examine tenant verification first, what it is, and why it is essential to carry it out when renting out a home.
What is Tenant Police Verification in Kolkata?
Property owners in Kolkata can request tenant verification from the neighbourhood police station.
Through numerous background checks, the process aids in confirming the identification of tenants.
The procedure ensures that the tenant who is renting out the subject property has no prior record of wrongdoing. Tenant verification also ensures public safety by preventing unauthorised and fraudulent real estate transactions.
Both online and offline submissions of a tenant verification request are acceptable. You can find the tenant police verification form pdf online easily. The parties\' mutual convenience will determine the application mode in full (property owner and tenant).
Property owners must complete the tenant verification form whether they apply for online tenant police verification or offline.
Additionally, it must be signed and submitted along with all other supporting documentation.
The purpose of tenant verification prior to renting your property
Here are a few of the main justifications for why you should think about performing tenant verification before allowing strangers to rent your house:
With tenant verification, landlords may do a background check and learn more about the tenants' past behaviour. If the information given by renters is accurate, it benefits them.
Tenants can learn more about the status of the power that property owners assert they have over the rental home of their choice by using tenant verification.
Once tenant verification is complete, tenants are aware that their information has been entered into the local police database and refrain from engaging in any illegal acts, such as causing any type of property damage.
The designated police station check prior residences where licensees/ renters have resided as part of the tenant verification procedure. Knowing if the tenants are from India or another nation aids property owners. Even though it doesn't really matter, occasionally international tenants overstay their welcome and refuse to even cover the additional rent.
Following tenant police verification, tenants often pay rent on time and maintain the property. Since they are aware that the paperwork is contained in the police files, they make an effort to avoid causing any property damage that would result in a police complaint.
Application for online tenant verification on the Bidhannagar City Police Website
How to do tenant police verification online?
1. Visit the online portal for the police department: To easily apply for tenant verification online, you must first go to the Bidhannagar City Police website. Click here to go!
2. Find the Registration Tab: The tenant verification form may be found in the Registration Tab area. As shown in the Picture below.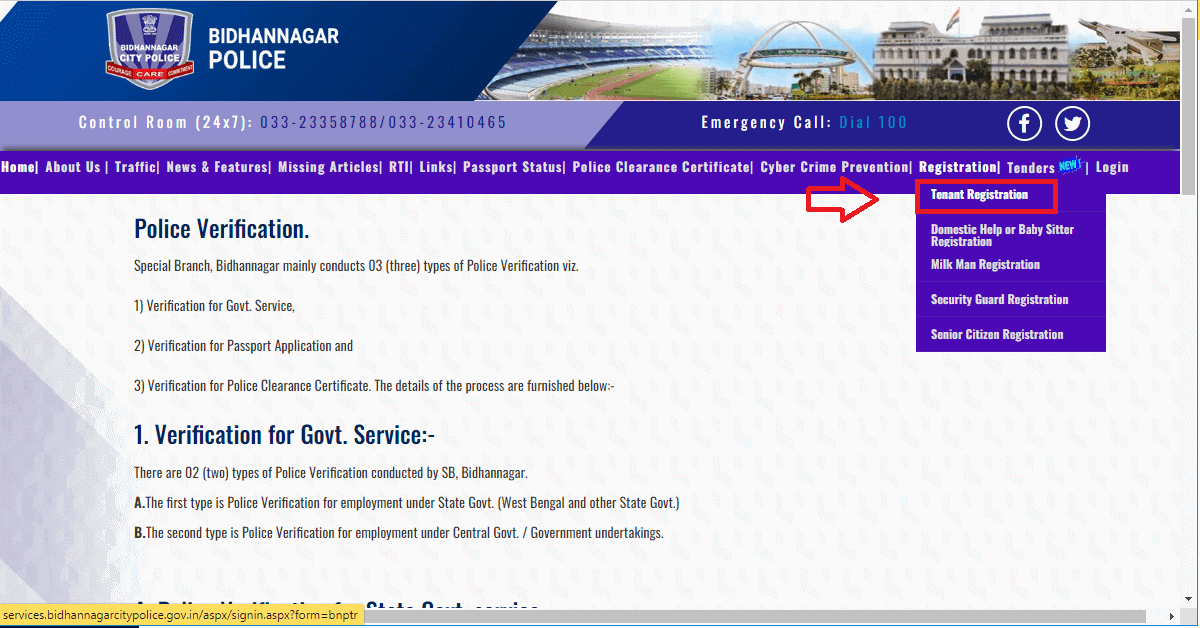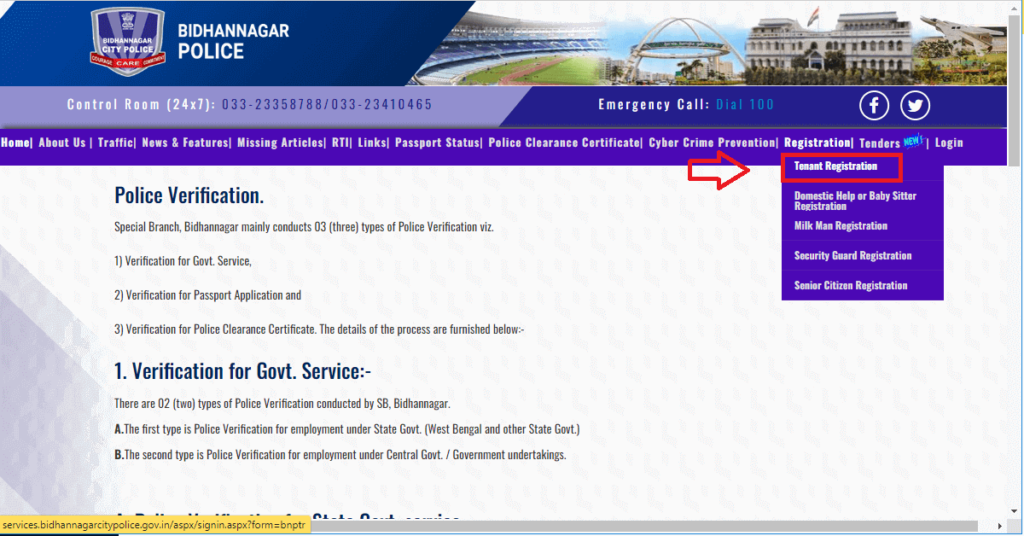 3. Create your User Account: Create your user account in the official website as shown in the picture below.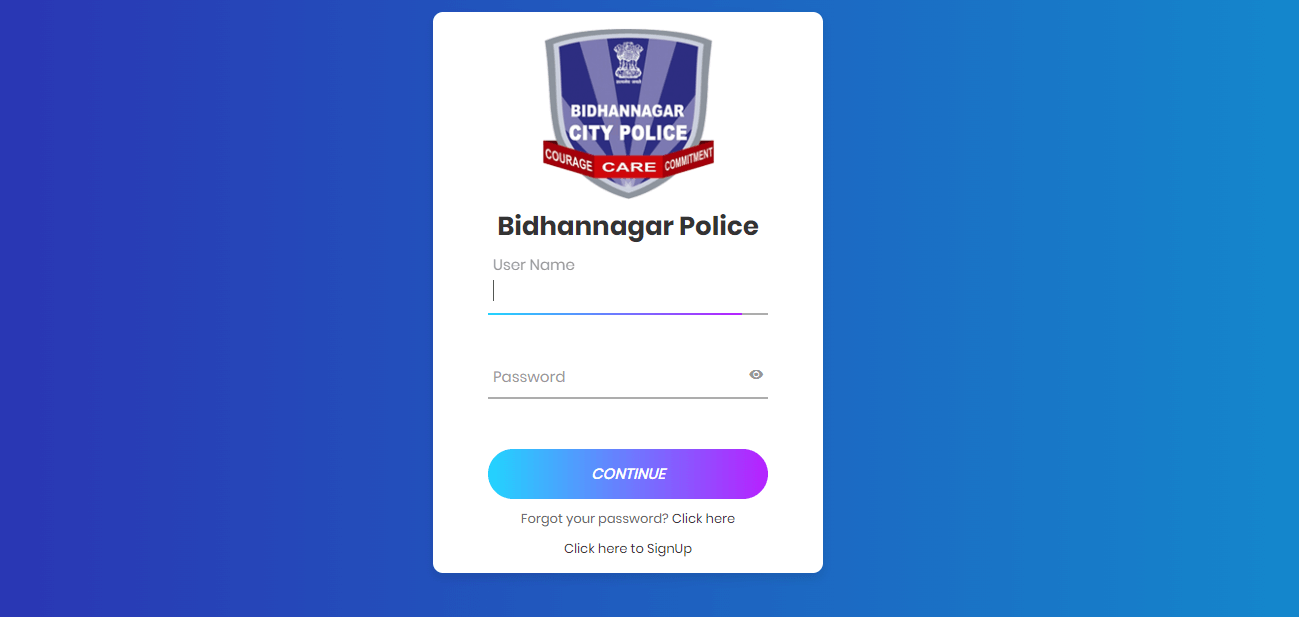 4. The Crucial Documents Should Be Attached: Then apply a new Tenant Verification and fill it out with your personal information and the information about your tenants. Name, mobile number, email address, current address, and other information must be provided. Once completed, you must submit any necessary supporting documentation, including passport-sized photos, proof of identification and proof of address. The list of necessary documents is available on the police department\'s website.
5. Submit the Tenant Verification Form and Download Acknowledgement: You can submit the tenant verification form after all the required information are given . How to download tenant police verification certificate? after clicking on the Save or Submit button to finish the application process, submit the form, and download the Acknowledgement receipt that is also called the certificate and send it to nearby Police Station. For those who can not do tenant police verification online, you must visit the local police station and ask them for offline tenant verification form.
Application for Tenant Verification at the Branch
Collect the necessary documents: Gather all the necessary papers for both you and your tenant first. The necessary paperwork also includes a rent agreement, passport-sized photos, proof of identification, and address. The list could change based on where your home is located.
You should visit the closest police station: You can apply for offline tenant verification at the closest police station after you have all the necessary documentation on hand.
Obtain the Tenant Verification Form: Once there, you can speak with one of the authorised individuals and obtain a copy of the tenant verification form.
Fill Out the Tenant Verification Form: Before completing the tenant verification form, make sure to read the instructions. Basic details about both you and the renter, i.e., their names, addresses, phone numbers, etc., must be provided.
Submit the Tenant Verification Form: Once the form has been properly completed and signed, you may send it to a designated police officer together with all the gathered documentation.
Things to Consider When Renting a Home
Keep the following points in mind while renting a house in any of your favourite places in Kolkata or around India.
Examine your selections and select the rental home that best suits your needs.
Create a leasing agreement that clearly states all of the terms and restrictions.
Check with the property owner about payment options other than your savings account, such as credit cards, debit cards, mobile wallets, and so on.
Inquire about the dos and don\'ts and obtain a no-objection certificate for things like keeping a pet, entertaining guests, and so on.
Ensure that all bills, including electricity, gas, and water, are paid.
Make sure you run an ownership check to confirm the property lender\'s ownership status.
Remember to save rent receipts for your monthly rent payments.
Key Insights on tenant police verification
Always examine the rental prices of the houses that are offered in various regions before selecting the one that best suits your budgetary needs.
Throughout the tenant verification procedure, tenants must always give the police department and the property owner accurate information.
According to Section 188 of the IPC, the person who provided false information for the process may face punishment or be required to pay a fine.
Some fees may be incurred by property owners in order to verify tenants. To view the most recent fee and charge schedule, they can check the website of their neighbourhood police station.
Is a tenant police verification necessary?
According to the tenant verification law, all landlords are required to do a tenant verification or tenant screening prior to renting out their properties.
It helps you learn more about the folks you will be entrusting with your property for a predetermined amount of time.
It is imperative that you be fully informed of their history of stays and, if applicable, criminal histories.
This aids in your decision-making when selecting tenants for your home.